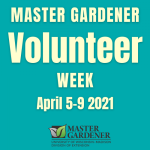 The Wisconsin Master Gardener Program celebrates Master Gardener Volunteer Week April 5-9, 2021.  Master Gardener Volunteers are an important part of the University of Wisconsin-Madison, Division of Extension Chippewa County. They make a positive difference in the Chippewa County community by providing gardening education to the public through presentations and their annual winter gardening seminar, delivering programs at school gardens, initiating community gardens, maintaining and monitoring bluebird nest boxes at Old Abe Trail, maintaining community green-space, creating pollinator habitat, removing invasive species, and growing fresh produce for donation at St. Joseph Hospital Community Garden.
Through these hours of community service, these volunteers work to make Wisconsin an incredible place to live.
Wednesday, April 7, is "Thank a Master Gardener Volunteer Day." Extension wants to recognize all of our Master Gardener Volunteers for their dedication and contributions to Wisconsin.  Join us by saying "Thank you!" to a Master Gardener Volunteer on April 7!
To thank your Chippewa County Master Gardener Volunteers, call the Extension office at 715-726-7957. If inclined, send a thank you card to Chippewa County Extension, Attn: Master Gardeners, 711 N Bridge St #13, Chippewa Falls, WI 54729, and we'll make sure our Master Gardener Volunteers know about it!